© 2013 Gavel & Gown Limited : Registered in England and Wales No 2980431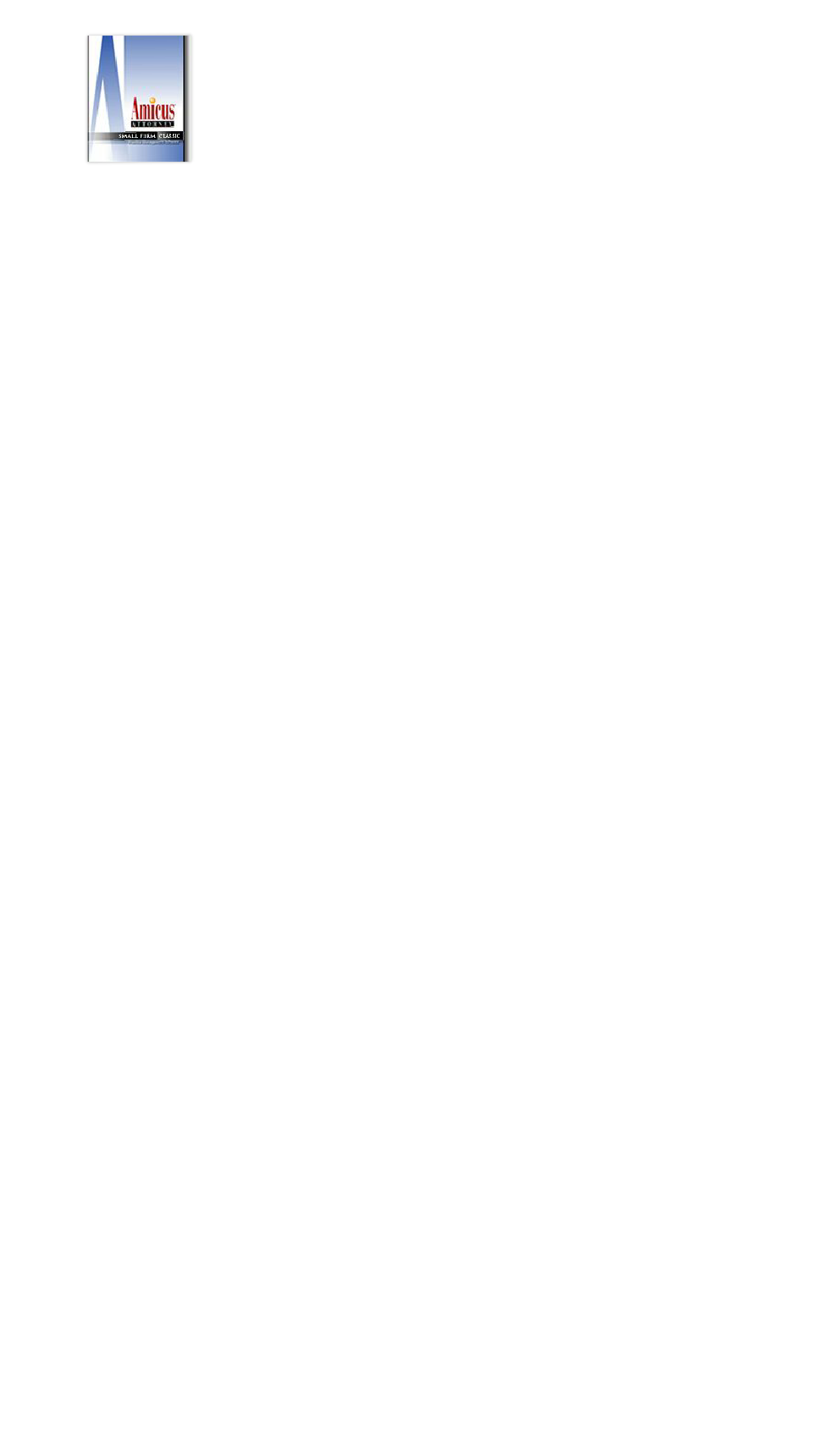 Amicus Attorney Small Firm Classic

Practice Management Software for Solos and Small Firms


Lorem
Amicus Attorney Small Firm Classic Edition is designed specifically for solo practitioners and small firms to help improve efficiency and profitability and assist them in getting the most out of the time they spend practicing law.
A lot of features make up Amicus Attorney Small Firm Classic Edition of which those listed below are the major ones.
Your Law Office on Computer
Amicus Attorney integrates all the information in your practice in one place.
Information need only be entered once and it is available wherever and whenever you need it.
Everything is organised and nothing falls between the cracks. Re-use information, knowledge and processes in new matters as they come up. Gain insight on your practice from the various reports available and share information with various third party products. Amicus Attorney will help you be more productive and give you peace of mind.
File Information instantly accessible
Amicus Attorney organises all of your file information and keeps it right at your fingertips so you can always find it quickly.
For each file you can track appointments. tasks, contacts, communications and time across all the members of your team. You can attach documents of all types to the file and access them easily when you need to. You can quickly track progress and generate several types of status reports to help you manage your practice more effectively.
Amicus Attorney allows you to re-use the information that you add to the file to generate documents in HotDocs, Microsoft Word or WordPerfect.
You can tailor files to different practice areas using customisable fields and work the way you want to.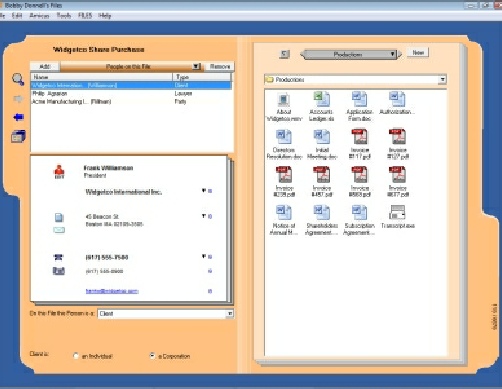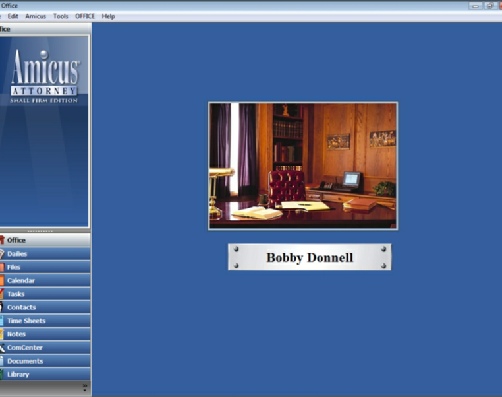 Calendar - manage your day
The Calendar tracks your appointments, displays deadlines and lists To-Dos, shows your communications and notes. View by day, week, month, year or in lists. The group calendar lets you easily schedule meetings or assign tasks to others, book common resources and so on. You can create profiles to bring up particular views like Court appointments or Completion days.
Set up your own workflows, such as debt collecting or conveyancing, by linking related tasks for easy rescheduling, save then then use them over and over again on new files.
Drag and drop events to reschedule them, set up certain less important tasks on a "do someday" schedule and so on.
Besides organising what you do Amicus Attorney helps you do it!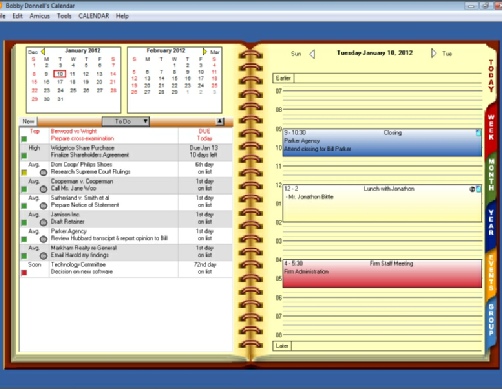 The Tasks module gives you a centralised place to organise events and get things done.
Enter To Do's just by typing in the list. Quickly jot down new tasks as you think of them and then refine the details later. See all your To Do's across any range of time or files in one easy to manage list, even those you have assigned to other members of your team. Sort them, prioritise them and check their status.
Manage delegated tasks all in one place .
Managing your task list has never been simpler.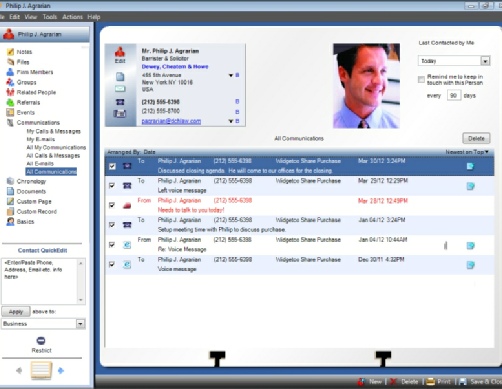 Communications Management
Stay on top of your communications. Track email, phone calls and messages in one place. View who you need to get back to with information that's completely integrated with your files. A simple click from a phone message will enable you to remember who the contact is, what their file is all about and what was done last. You are more in control when everything is in one place!
You can easily time record from within the communication to ensure you bill for all the time you have spent on that communication.
You can manage and deal with sent and received email messages in the ComCenter and associate them with contacts and files if they are not dealt with automatically.
View all your phone messages, and those handled by other people working on your files, in one place.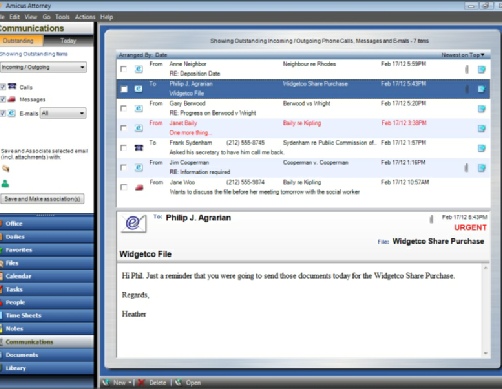 Do more. Bill more. Go Home early.
While you are working Amicus Attorney is in the background keeping track of what you are doing. Automatic time entries can be created for daily activities such as phone calls, emails and done To Dos. You can also create new time entries quickly and easily with handy shortcuts.
Be alerted when you have forgotten time entries. Check your billable hours against targets you set.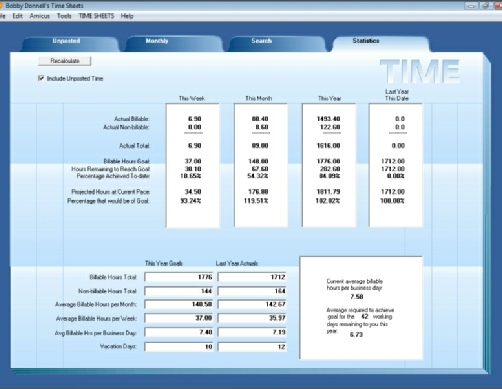 Amicus Attorney helps you organize information so that everything is at your fingertips.
You can use the "magic" legal pad to record what you are thinking of before you forget or are distracted by other things. Then, deal with it later when you have more time.
Once you have recorded your note you can cross reference it to a particular file, or convert it into a different type of record or send it as a sticky to a colleague.
Eliminate the clutter of paper notes around your desk!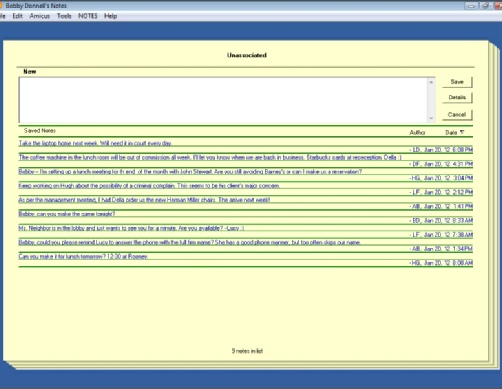 Integrated knowledge management
The Amicus Attorney Library is a unique knowledge management tool that integrates legal research into your files. Using the Library you can keep all your information, such as research memos, counsels opinions, on line services and Internet and Intranet sites at your fingertips.
The flexible organisation structure can be tailored to your specific needs. You can store your own information locally or you can share information across the firm. It can act as a gateway to online legal research and help track access to paid services.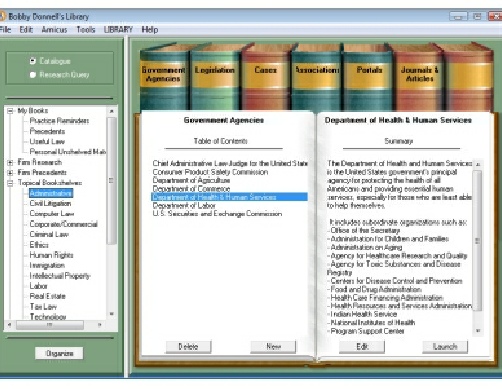 Draft a complete document with a single click. Amicus Attorney combines your standard text for the document with the client's particular file information and drafts the document for you. It works with HotDocs, WordPerfect and Microsoft Word merge templates.
All data fields in Amicus Attorney, including custom fields, are available for drafting documents. Use your existing merge templates or create powerful new intelligent documents. Any document can be generated at any time from your Files or Contacts modules. Or a document can be attached to a To Do, so all you have to do is click DO at the appropriate time to draft it.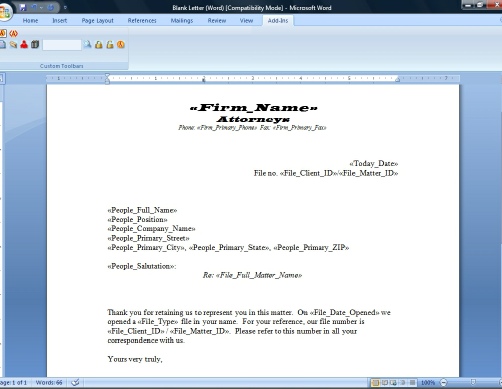 Keep track of the people you deal with
Most important to your practice are the people that you work with. Amicus Attorney organises your contact information in a familiar way, the card index. For each person you can see all contact information including lists of events, communications, files, documents and relationships.
You can share this information with others in your practice so everyone has the same information.
You can stay in touch with contacts easily with the business development tools and reminders built into Amicus Attorney.