© 2013 Gavel & Gown Limited : Registered in England and Wales No 2980431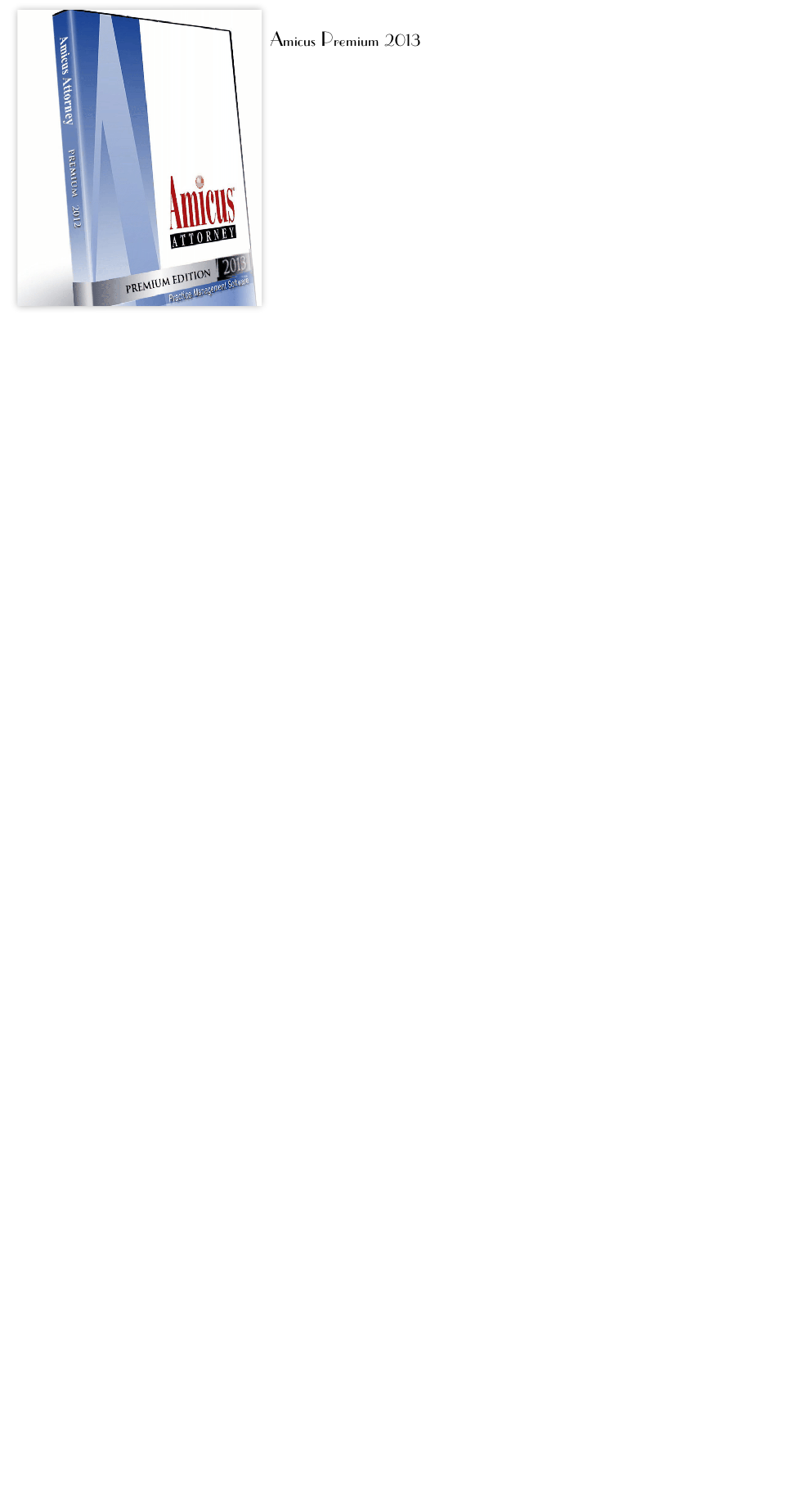 Lorem
Amicus Attorney 2013 Premium Edition is the best in practice management, designed by legal professionals for legal professionals. Intuitive and easy to use Premium Edition offers superior functionality, a flexible and scalable solution for firms of all sizes.
Amicus Attorney understands what you need to do and helps you do it - and get paid for it!
A wealth of functionality is integrated into a single, lawyer-friendly system. Integration has many benfits like natural workflow, re-use of information, enhanced team work and capture of more billable time. It helps increase the organisation of the firm and that allows you to practice more efficiently and more confidently.
The information presented below is only an overview. If you want more information then book a demonstration from our sales team.
File Information instantly accessible

Client matters are the main component of your practice - you open a file for each one. Everything you do and all that you bill revolves around the files. Amicus Attorney gives you easy access to your files and to the contents so you are better organised and able to work more efficiently.
Click on a file and you will see all the associated people, appointments and tasks, documents and emails, phone calls, time spent and much more including a complete chronology. Quickly produce status reports, review the history, plan your next steps or report to your client. Custom your file pages to show the information that you need in the way that you want that information to be available. Build workflows that you can use again and again on similar files to save time and effort.
Calendar - manage your day
The Amicus Attorney Calendar is a module which provides comprehensive scheduling allowing you to manage appointments, deadlines, tasks, repeating events and more for yourself, anyone in your workgroup or everyone in the firm..
You can display information in a wide variety of formats and create customised calendar profiles such as Court Hearing dates, shared resources (such as interview rooms, boardroom, conference facilities and so on) , team diaries and the like.
Using the group schedule you can see everyone's calendar and easily identify free time for joint meetings.
You can set flexible appointment reminders to ensure you never miss an appointment or deadline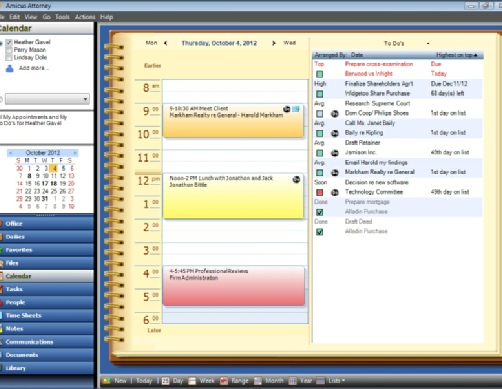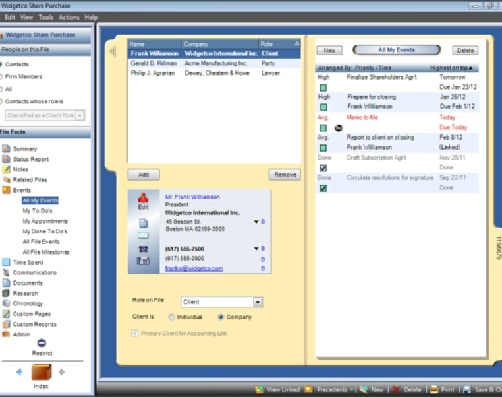 Tasks - manage your To-Dos
The Tasks module is the ideal place to get organised and get things done. It is the ultimate To-Do list, fast and efficient. Just type and hit return and each line becomes a "To-Do" in Amicus. You will never lost track of it.
This is just the beginning. You can also see a list of all tasks over a given time period, so you can set and sort your priorities and view your tasks as a Timeline across the screen.
The Timeline view is a great tool when mapping out a long term project, or just to provide a different perspective for scheduled tasks.
You can view tasks assigned to others. Simply check off the people you want to view from the user list to the left of your task list. This shows the users in your workgroup (who you work with regularly) but you can add any firm member you wish whether they are in your workgroup or not.
You can assign tasks to others and easily view tasks assigned to you. If someone isn't dealing with any assigned task then chase them up easily by right clicking the task and sending them a status inquiry email.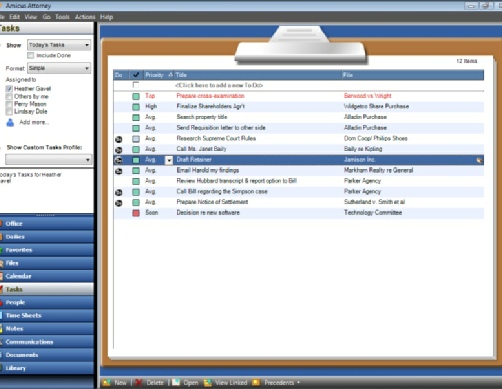 People - keeping track of who you deal with
The People module is a flexible and powerful contact manager and Custom Relationship Management tool that stores information about all of the people you interact with in your practice.
For each person you can see complete contact information including lists of events, communications, files, documents, relationships and more. Start a phone call or letter, send an email or go to a web page with one click of the mouse.
Stay in touch with clients easily with valuable business development tools and reminders. You can easily see the last time you were in contact with someone and have Amicus Attorney remind you to get in touch if it has been too long since your last contact.
Conflict of interest checking will help you reduce the risk in your practice.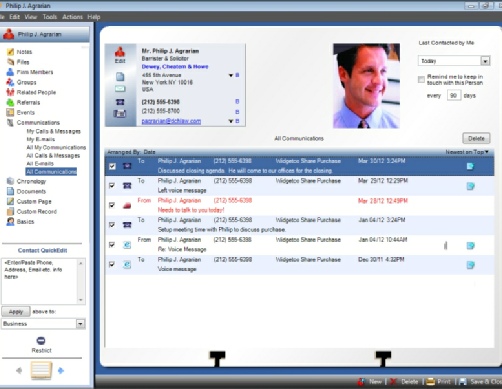 Communications Management
Stay on top of your communications. Track email, phone calls and messages in one place. View who you need to get back to with information that's completely integrated with your files. A simple click from a phone message will enable you to remember who the contact is, what their file is all about and what was done last. You are more in control when everything is in one place!
You can easily time record from within the communication to ensure you bill for all the time you have spent on that communication.
Amicus Attorney integrates with Outlook so completely that you can even see the Outlook email view within Amicus Communications. Enjoy the best of worlds with no compromise, all the features of Outlook and all the information in Amicus at your finger tips. All your emails can be tracked, automatically cross referenced with files and available for one click billing.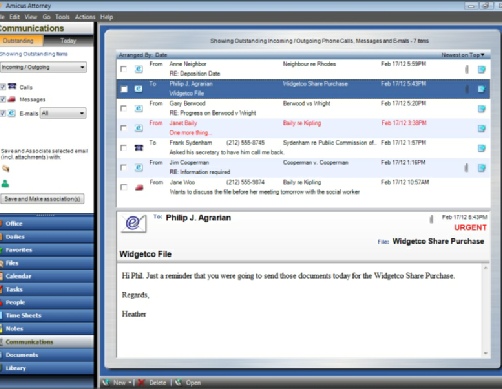 Bill more time, more easily. Amicus Attorney is in the background keeping track of what you are doing , and will often present you with a time entry, completely filled in for you.
Based on your preferences and the type of activity , your activity description can be filled in automatically. You can also use the auto-text feature to help fill out details. Just type in a short form or abbreviation and Amicus will interpret it and fill in the details. For example, type in "cew" and Amicus Attorney can automatically convert it to "consultation with expert witness".
If you don't need to track time then this feature can be turned off so you are never bothered by it.
View time entries on a file, see cross section of time by activity, file type, date range and more. Review time by day, week , month or year. Be alerted when you have forgotten time entries Check your billable hours by targets you set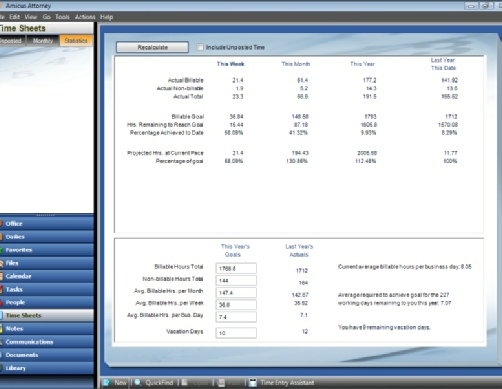 Amicus Attorney helps you organize information so that everything is at your fingertips. But when the phone is ringing and you are trying to cope with many different pressures at once, finding the right place to put things can sometimes slow you down. The Notes module helps you deal with this.
You can use the "magic" legal pad to record what you are thinking of fast and then deal with it later.
Once you have recorded your note you can cross reference it to a particular file, or convert it into a different type of record or send it as a sticky to a colleague.
So you can jot down the notes of a call, a task to be done, a message to send, or even a legal rule - and then later move it into the right place in Amicus Attorney with a single click. No need to retype anything.
Eliminate the clutter of paper notes around your desk!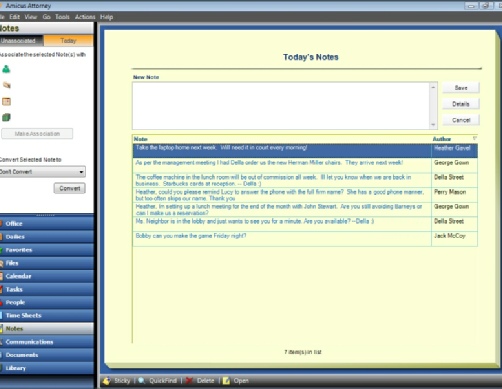 Integrated knowledge management
The Amicus Attorney Library is a unique knowledge management tool that integrates legal research into your files. Using the Library you can keep all your information, such as research memos, counsels opinions, on line services and Internet and Intranet sites at your fingertips.
The flexible organisation structure can be tailored to your specific needs. You can store your own information locally or you can share information across the firm. It can act as a gateway to online legal research and help track access to paid services.
Integration with Microsoft Office applications means you can access your Amicus Library information even whilst working in Word. So if you are reviewing a document and want to highlight a point of law you can click the Search button in the Word toolbar and search all the Library information your firm has accumulated on this subject.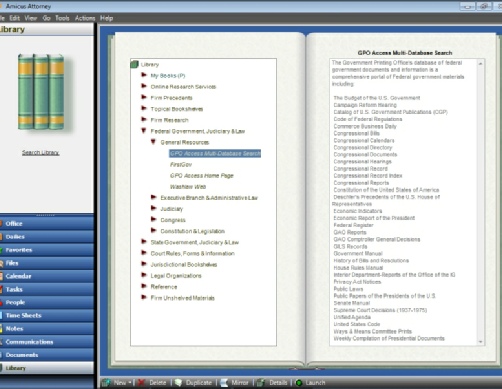 Draft a complete document with a single click. Amicus Attorney combines your standard text for the document with the client's particular file information and drafts the document for you. It works with HotDocs, WordPerfect and Microsoft Word merge templates.
All data fields in Amicus Attorney, including custom fields, are available for drafting documents. Use your existing merge templates or create powerful new intelligent documents. Any document can be generated at any time from your Files or Contacts modules. Or a document can be attached to a To Do, so all you have to do is click DO at the appropriate time to draft it.
Amicus Attorney is dynamically linked to the applications in Microsoft Office. So you can access all your Amicus information without ever leaving the document you are working on. You can save a document to a file in Amicus , or do a time entry for working on a document without ever leaving the document. Word will even recognize the names of your Amicus files and contacts as you type, creating links back to even more Amicus information. For example you can click on someone's name in a document to insert their address, make an appointment with them or bring up their full contact information. Or select any topic in your document and search across Amicus for more information about it.