© 2013 Gavel & Gown Limited : Registered in England and Wales No 2980431 Lorem
Amicus Attorney Billing adds billing, collections and trust to Amicus Attorney. It makes Amicus a complete practice management solution that manages both the professional and business sides of your practice. Do your work in Amicus Attorney, capture your time, and create fees, expenses, bills, trust entries and productivity reports, all within the same interface.
The natural workflow lets you automate and expedite your client billing processes - from time entries to expenses, trust activity to bill creation, productivity reports and so much more. Billing has never been easier!
Amicus Premium Billing gives you complete visibility into the financial aspect of your practice while doing your professional work. Just toggle back and forth between Amicus Premium and Amicus Premium Billing.
The main billing screen allows you to access the most commonly used billing functions all in one place quickly.
Dailies - keep on top of your finances
The Amicus Dailies module helps you answer the question "What's going on today?".
In a single integrated view, it provides you with a real-time overview of the business side of your practice.
Daily proactive billing reminders such as work in progress alerts, bill alerts and accounts receivable alerts help you stay on top of your client accounts.
The easy-to-read daily reminders show you at a glance what you have to do today - and make it easy for you to do it.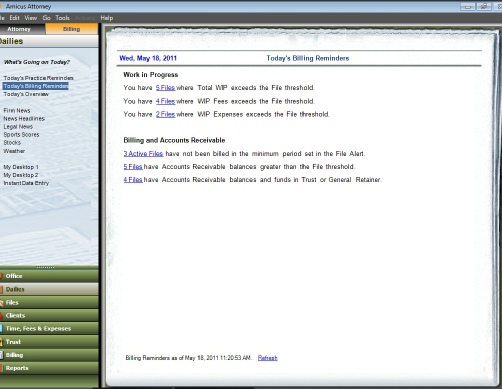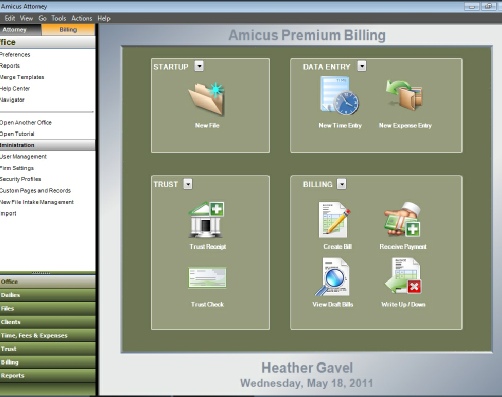 File Information at your fingertips
The Files Index provides a snapshot of the financial position of all Amicus files.
Flexible filters allow you to customize your view eliminating the need to run a series of reports.
Create new time and expense entries, receive payments, create new reminder statements.
To access the underlying file details just click on the file and you will be able to see all transactions, fees, expenses, bills, related files and so much more.
Amicus Premium Billing provides you with instant access to all financial transactions that have occurred on any given file. And in a few mouse clicks, you can get anywhere!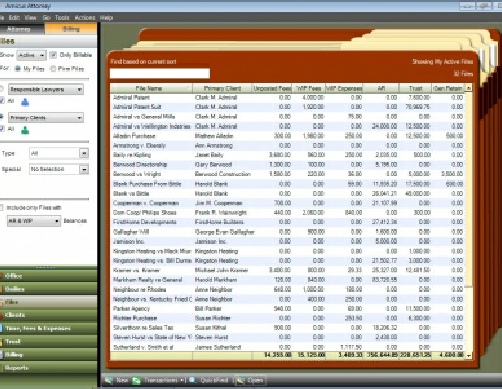 The client index enables you to interact with and view files and balances by primary client.
Choose to work with an individual matter for a client or with all the matters relating to that client.
For each person, you can see client ID and contact information along with work in progress, accounts receivable, trust and general retainer balances.
In a single click, bring up a contact's card to access further details including posted and unposted time, total revenue, when the last bill was issued and when the latest payment was received.
See who is bringing you work – by client and file.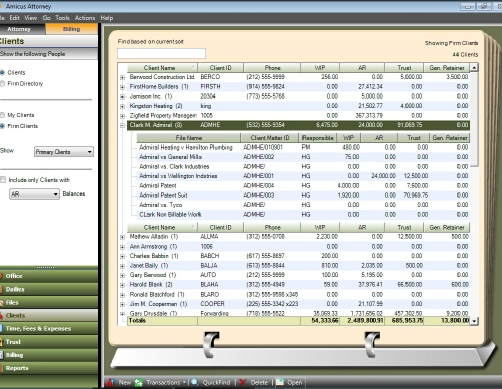 Managing your billing processes is the key to running a profitable firm. Amicus Premium Billing keeps you right on top of your billing activities at all times. And it's so easy you won't even realize you are billing.
You can bill from anywhere – the files index, a people index or from within the file itself. The simple billing structure makes it easy to review and edit entries on draft bills before finalizing. You can bill files one at a time or en masse and use hourly, fixed fee or contingency billing. And you'll save time with consolidated billing for clients with multiple files.
You'll reduce the risk of delinquent accounts by having the billing status at your fingertips while you work. And you'll provide better customer service to your clients by being able to respond to queries about their file quickly and accurately at all times.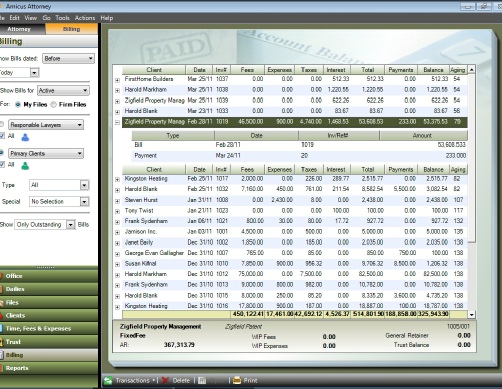 You can run variety of reports by staff, client or file type and optionally edit them to meet your needs.
As report results are active links, you can use the onscreen drill down capability to access further details.
Having financial reports at your finger tips means you'll make better decisions on how to manage your practice